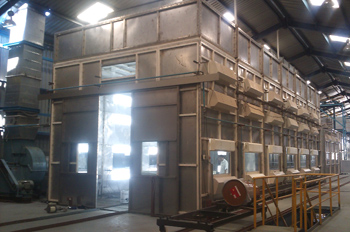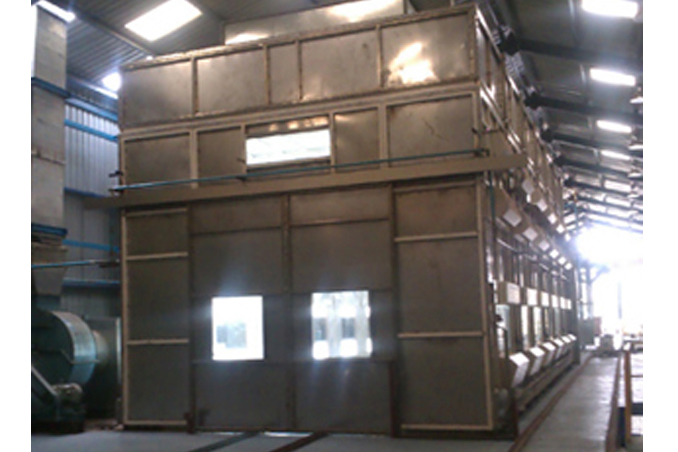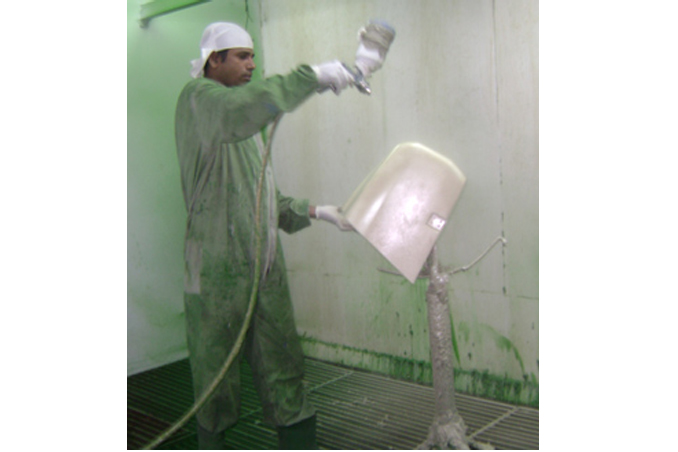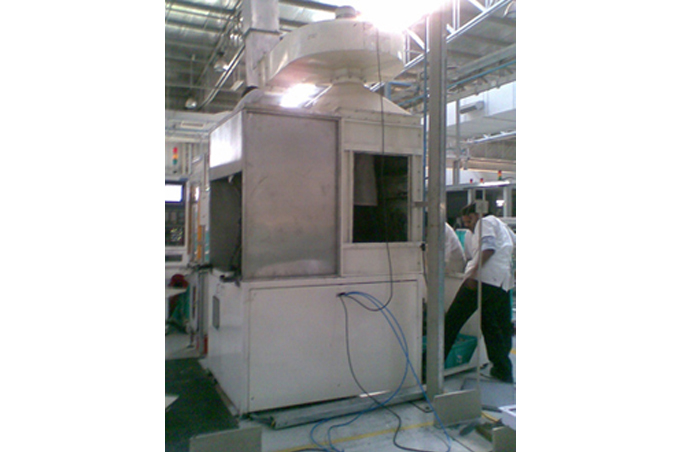 We are Manufacturer, Supplier of Paint Booths, Batch Type, Conveyorized, Side Draft Type, Down Draft Type, IDown Draft Wet Paint Booths, Dry Type Paint Booths, Wet Type Paint Booths, Pressurized and non-pressurized Paint Booths, and our set up is situated in Pune, Maharashtra, India.
Batch Type :
These paint booths are best suits in performing small batch type jobs. Air is carried through the open front of the spray booth, passes through the booth's working are into the filtered exhaust plenum. There is a duct to address the overspray paint particles. It is used to achieve an excellent top coat finish. These paint booths consume low power consumption and high efficiency. We design these booths based on the requirement and application.
Batch booths provide pressurization for dust proofing, Manual or Automatic Painting applicators like Auto Guns, Discs and Bells or Robotic Painting.
Benefits
An efficient method of containing over-sprayed paint
Restricts paint over-spray to a specific area
Gives optimum air velocity to exhaust the over-spray
Provides maximum operator comfort and reduces possible health risks
Reduces the risk of fire due to solvent vapours and over-spray deposits
Features
Heavy Duty Construction
Low Maintenance
Easy to Assemble
Re-circulates Shop air
Conveyorized :
We are designing and exporting Conveyorized Paint Booths to meet the customer demands. We assemble our products under the strict surveillance of experienced professionals, and by following industry norms and standards. We ensure the flawlessness of these paint booths by conducting various tests before the final delivery to the customers. This paint booth is useful to paint the moving components on conveyor systems for continuous production lines. We provide a complete solution to our client for finishing their products. They are suitable for painting high quantities of components which are large or small in size.
Features :
Perfect finish
Compact design
Optimum performance
Less maintenance
Excellent functionality
Side Draft Type :
The system offers rapid removal of paint and overspray coating. The effectiveness of the Side Draft Paint Booth depends on air draft and the direction of spray painting. Incoming air passes into the paint booth through the filtered upper plenum and from door filters. In a Side Draft Paint Booth, it is open from the front side, and air draft moves towards the exhaust chamber. Over sprayed particles can move towards the exhaust chamber along with the direction of air draft.
In this type of paint booth, there is unlimited space, and it can be used for unlimited spraying. We offer the side draft paint booth which is the best to paint the whole product, and it has proper exhaustion for convenient use. Side Draft Painting Booths are helpful for the painting of small or large components.
Benefits of Side Draft Paint Booth:
Side draft paint booth creates some pattern of airflows around the painted objects.
It keeps contaminants away and down from the finish.
It does not require concrete pits; hence it eliminates the cost of concrete work.
Down Draft Type :
In the Down Draft, air flows towards the floor of the spray booth. It consists of a painting chamber, inlet air filter, paint Trap Filter, Axial Flow Fan, electric motor, duct and canopy, etc. The air is absorbed into the room by the extraction modules present on the side walls. The air penetrates the system from the top of the booth by passing 2 stage filters.
The downdraft action permits air to flow down through the operator and the job to improve the visibility to the operator. The exhaust air system sucks the suspended paint particles and fumes from the booth, and air discharged into the atmosphere is clean.
The Down Draft Spray booths are available in two types :
Down Draft Dry Paint Booths

IDown Draft Wet Paint Booths
Dry Type Paint Booths :
Dry type paint booths have a completely modular design and globally acceptable construction. These type of spray booths are best for painting medium & large components. Dry type paint booths are recognized for their simplicity and low power consumption. The dry type paint booth consists of paint grabbing paper filters. These filters are manageable and disposable with ease. The metallic filters are used to restrict over-sprayed paint and provide clean air output to the environment.
We manufacture dry paint booth with unique specifications:
Simplistic construction and low power loss
Provided with paint arresting filters
No effluents
Easy to maintain
Wet Type Paint Booths :
Water wash booths are used where paint loss is more than 10 litres/day. Wet type paint booths are useful for a liquid in paint applications. Generally waterborne and solvent based are used in the paint booth. The main functional principle of this paint booth is the exhausting system. Exhaust sucks solvents and paints particles together and maintain booth fresh and healthy. We provide wet type paint booth which is used for spray painting. A constant stream of water collects overspray paint particles from the air and collect them in the water tank. This type of paint booth is coated with zinc and aluminium to protect from corrosion and made from stainless steel to secure its long life in wet conditions.
High operator competence
Resist Corrosion
Robust construction
High sturdiness
Pressurized and non-pressurized Paint Booth :
We provide pressurized as well as non-pressurized paint booths for the effective and efficient finishing of products. Paint booths protect the objects from contaminants.
The pressurized Paint Booth
is an enclosure that exhausts air outside at the same volume at which it draws in. Here, an air control system maintains air purity and temperature. This method is mostly used for electronics and automobiles to deliver component with proper finishing.
Non-pressurized Booth
includes a filter to draws air from and ejects it into the booth. Some environments need a heated air makeup unit, and non-pressure is best for it. Many industries including refinishing, auto manufacturing, fiberglass, and metalwork are using this method.