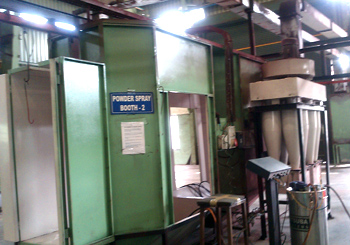 We are Manufacturer, Supplier of Powder Coating Booths, Batch Type Powder Coating Booths, Conveyorized Powder Coating Booths and our set up is situated in Pune, Maharashtra, India. We design powder coating booth for multipurpose and in different size components. It is the cost-effective and efficient booth. The fundamental purpose of this booth is to recollect the over-sprayed powder and reuse it. The booth is manufactured with the cyclone recovery system which helps to collect and reuse the powder. Powder coating gives a decorative finish to the component, and it helps to resist corrosion.
Batch Type :
We manufacture the powder coating booth with unique designs and for manual and fully automatic coating application. Batch type powder coating booth gives maximum recovery of over-sprayed powder with the multi-cyclone recovery system. In batch type booth, recovery can be nearly 99% and almost zero powder flow from the cut-outs.
Features
Multi-cyclone recovery systems
Options for bag filters and cartridge filters
Conveyor track and trolley for material handling.
Easy handling
Work continuously.
Conveyorized :
Matching large market demands, we offer a conveyorized powder coating booth for customers. We produce booths in various stipulations and dimensions. Conveyorized booth has high production volume including fully automatic and conveyorized system. It has an automatic powder recycling system and powder management process. It is an automatic powder coating booth with the mono cyclone and multi-cyclone system.
Features
Fully automatic and conveyorized system
Durable
Long operational life
Smooth operations
Options for bag filters and cartridge filters