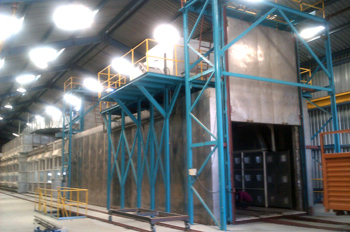 We are Manufacturer, Supplier of Paint Baking Ovens, Powder Curing Ovens, Batch Type Ovens, Conveyorized Ovens, Electric Heated Ovens, Gas Fired Ovens, Oil Fired Oven, and our set up is situated in Pune, Maharashtra, India. We provide a complete package of oven. We manufacture oven with technical specifications, design, manufacturing, installation & commissioning process. We offer electrical heating, gas fired heating & oil-fired heating system for the oven as per availability of fuel at customer end & economical basis. Ovens can be made ground mounted, a structure mounted, batch type as well as conveyorized. Oven panels are manufactured by using premium quality material and insulated to get sufficient density & thickness of the coat.
Batch Type Oven :
We are expert in offering for our precious clients a superior quality range of Batch type oven. This oven is customized as per the available space. We ensure to provide convenient operation. We design the oven which is robust, efficient and available in different sizes to meet the client requirements.
Features
Excellent quality
Anti-Corrosive
Fine finish.
Conveyorized Oven :
We are the prominent manufacturer, exporter & supplier of a precision-engineered range of Conveyorized Oven. We design and develop products that are suitable for high quantities of components.
Features
Minimum maintenance
Extraordinary performance
Industry approved design
Safe limits of protection
Multipoint temp monitoring
Inside high temp resistant paint
Electric Heated Oven
We provide electrically heated ovens to paint baking or powder curing. These ovens generate heat from electrical coils and give perfect outcome to paint or powder. These ovens can operate easily to manage temperature and time. We provide electrically heated ovens with many features, specifications and secure operating systems.
Gas Fired Oven :
We manufacture a broad range of Gas Fired Ovens to suit combination of industrial process applications identified with heating. These ovens are ideally suitable for general heating applications. We provide an oven of various types, sizes, and temperature ranges. We manufacture energy proficient ovens with a minimum gradient over their width and heights. Gas fired ovens are combine with a wide range of batch type as well as many parameters like conveyors, flight bar floor conveyors. All ovens constructed with a high-quality component using our unique modular method.
Features
Easy installation
Controlled by hot air circulation fan
Higher efficiency
Well-designed air circulation system
High Volume and Low-Pressure
Easy operation
Oil Fired Oven :
We manufacture oil fired oven for paint baking or powder curing It has fire and heat protection and helps in keeping the temperature at the nominal level. This oven uses air as a medium to heat various industrial stuff and materials. The digital system helps to control and track the flow of heat from one tray to another.
Features
Heat resistant glass door
Safety regulator
Rapid heating